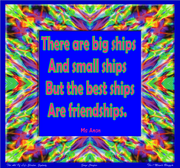 Valentine's Day is full of paper hearts,
but my heart for you, my friends,
is full of feelings
more precious to me than gold,
as long lasting as diamonds.
My heart for you, my friends
is filled with emotions strong as platinum,
and appreciation for you
worth more to me than any treasure.
My Valentine heart is yours,
my priceless friends.
Happy Valentine's Day!--Tiria Wildlough

Ee aye eeeh!! 15:39, February 14, 2013 (UTC)
Ad blocker interference detected!
Wikia is a free-to-use site that makes money from advertising. We have a modified experience for viewers using ad blockers

Wikia is not accessible if you've made further modifications. Remove the custom ad blocker rule(s) and the page will load as expected.